The winter season is the perfect time to slow down, nourish your body and mind, and make beautiful memories with loved ones.
During the winter months, I find myself at home much more than I am during other seasons, which I sometimes find hard to believe because I feel like I spend a lot of time at home already! During this time, we do what we can to cut down on outside commitments so we can spend more time together as a family. Because my kids and I spend so much time at home during the winter, I work hard to fill our days with little pleasures of the season and make our home is a comfortable, welcoming place for us to be.
Some ways we do this is by incorporating seasonal rituals into our days like Advent celebrations, 12 Days of Christmas countdowns, and Winter Solstice activities. We also decorate our home with festive decor for the season, bring light and warmth indoors through fires in the woodstove and lots of candles, and enjoy the scents and tastes of the season through the use of holiday essential oils and delicious seasonal meals that incorporate healthy spices.
Today, I want to focus on how we use holiday essential oils to not only make the atmosphere of our home more festive during this season but to support our health at the same time. In this post, I've teamed up with Plant Therapy to share some tips, ideas, and recipes that I personally use in my home, all revolving around their holiday essential oils, to make our home a healthy, welcoming place to be during the cold days of winter.
6 Ways I Use Holiday Essential Oils During Winter
One of the primary uses of essential oils is to stimulate the senses, specifically the sense of smell. The scents we smell are a combination of chemicals that when inhaled trigger various responses in the body. These responses can be physical or psychological. Essential oils can also be used topically. Here, the chemicals are absorbed through the skin, and various responses are triggered in the body.
I use Plant Therapy's holiday essential oil blends for both their physical and psychological effects. Some of these blends are uplifting, some are relaxing, some trigger scent memories, and others help to discourage harmful microbes in our environment.
And while you can easily create your own essential oil blends using Plant Therapy's single essential oils, I just love that their certified aromatherapists have already created well-balanced holiday essential oil blends that are convenient to use in whatever way I need them. It makes things so much faster and easier when I'm in a hurry!
Okay, now for the tips and DIY recipes!
1. Room Spray
Who doesn't want their home to smell nice? I know I do. One way I do this, especially during the holidays, is to use holiday essential oil blends in my diffusers or in homemade room sprays.
I have a few diffusers scattered throughout my home that I use these blends in. I turn the diffusers on at different points during the day, but I don't run them constantly. typically turn them on first thing in the morning, during quiet times (when the boys are reading, working on puzzles or legos, or doing art projects), before company comes over, and before bed. If I think a room needs a quick scent boost, or I want to quickly cover an unpleasant smell, it's easier to grab a bottle of homemade room spray and spritz it a few times. I keep homemade room sprays in both bathrooms and in the kitchen (because I sometimes burn food — oops!).
Homemade room sprays are super easy to make. Just remember to shake them really well before spraying them to disperse the essential oils in the liquid, and to not use them directly on the skin.
Holiday Treats Room Spray
Ingredients:
Directions:
Combine all ingredients in a glass spray bottle.
Label and shake well before use.
Store at room temperature for 3-4 weeks or refrigerate for 3-6 months.
To Use:
Spray 2-3 spritzes high into the air in several places in the room as often as needed to cover up unpleasant smells.
*Note: I use hydrosols in my room sprays because they have a longer shelf-life than water does, especially when combined with alcohol and essential oils. Hydrosols have scents of their own so make sure the one you choose will pair well with your holiday essential oil blend. For example, peppermint hydrosol pairs well with the Candy Cane holiday blend and tea tree pairs well with the Frosted Mint blend.
2. Herbal Potpourri
Another favorite way to use holiday essential oil blends is to incorporate them into an herbal potpourri. Every year growing up, my mom would buy a holiday potpourri blend (the store-bought kind), add it to a decorative bowl, mix Christmas lights into it, and it would fill the room with its sweet, spicy scent. I loved the smell and the ambiance it added to the room. Now that I'm a mom with a goal to live life naturally, I'm doing the same thing, only without synthetic fragrances.
Holiday Spice Potpourri
Adapted from the Herbal Academy
Ingredients:
5 whole nutmeg
6 cinnamon sticks
3 dried apple slices
3 dried orange slices
1 tablespoon whole cloves
3 bay leaves
2 pine cones
5 star anise pods
30 drops of holiday essential oil blends of your choice
Directions:
Combine all spices, fruit, and other natural elements in a glass bowl.
Add essential oils and carefully mix together.
Place finished potpourri into a bowl for display. Add Christmas lights or timed LED lights and set it out for display!
3. Greenery Scent-Refresher Drops
Bringing fresh greenery into our home is something we like to do each year in some form or another whether it's a tree, wreath, garland, or table centerpiece. And no matter how fresh their scent is at first, it doesn't last long. You can spritz your fresh greenery with water to keep it from drying out too much, but no matter, once it's cut, it begins to die and the smell slowly fades. One way you can boost the scent of fresh greenery is to add scent-refresher drops once a week.
Greenery Scent-Refresher Drops
Ingredients:
Directions:
Mix oils together in a glass bottle with a dropper top.
Shake and label.
To Use:
Add scent-refresher drops to fresh greenery in several places once a week to boost its scent
4. Winter Self-Care
Another way I like to use holiday essential oil blends is for winter self-care.
I wrote a whole post on my winter skincare routine that's filled with DIY recipes as well as links if you'd rather buy products rather than make them. Instead of adding one single essential oil into a handmade skincare product, you can use holiday essential oil blends instead. You can also find a recipe for relaxing bath salts here, but if you'd like to make a batch of these special for the holidays, just replace the essential oils in the recipe with some holiday essential oil blends instead. And then there's this recipe for a fresh pine sugar scrub that's one of my favorite additions during winter!
5. Making Holiday Gifts
Another yearly tradition I have is to make some handmade holiday gifts for friends and family. Each year the gifts are different, but each year, I spend a lot of time thinking about what to make. I want these gifts to be heartfelt and meaningful to those who receive them. One thing I'm sure to do with almost all the DIY holiday gifts I make is to include holiday essential oil blends into them where needed. It just helps to capture the essence of the season all the more.
If you are like me, and you want to make and give DIY holiday gifts this year, below is a list of DIY holiday gifts to help you get started. And if you're curious as to what DIY holiday gifts I'm making for my friends and family this year, you're just going to have to come back after Christmas to find out. There may even be a chance for you to win some of these gifts for yourself!
6. Antimicrobial Holiday Cleaners
It's unfortunate, but winter holidays often bring more than cheer — sometimes they bring sickness, too. Staying healthy during the holidays is a priority, and one way I work to achieve that goal is to add holiday essential oils with antimicrobial properties to my homemade cleaners.
When it comes to cleaning my home naturally, one way I do it is with Branch Basics. Branch Basics offers an all-natural soap concentrate that you dilute in water and use in many ways to clean your home. Their concentrate is plant and mineral-based, biodegradable, not tested on animals, non-GMO, safe for pets and humans, and free of harmful preservatives.
To take my cleaners to the next level, especially during cold and flu season, I add my antimicrobial holiday essential oils to my Branch Basics concentrate when I'm making a fresh bottle. The amount of holiday essential oils I use will depend on what type of cleaner I'm making. My bathroom and all-purpose cleaners are typically the ones I add essential oils to since they're the ones cleaning the surfaces we touch most.
And there you go. These are just six ways I use holiday essential oils here in my home during the winter months, and I'm sure they actually get used in more ways than this!
Happy holidays, friends! I'm so grateful for your presence here — for being a part of my life and business. I hope your days are merry and bright, and that your holidays will be filled with good health and meaningful memories to cherish in the years to come!
Plant Therapy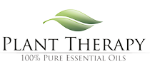 This post was underwritten by Plant Therapy. All opinions are mine. Plant Therapy offers 100%, pure, undiluted essential oils sourced from some of the top essential oil suppliers in the world. They have single oils and synergy blends, as well as a line of synergy blends specific to children. Not only do they offer high-quality essential oils, but they also offer carrier oils, hydrosols, and other essential oil accessories to help you keep yourself and your home naturally healthy.